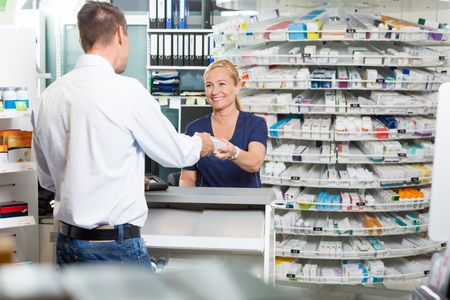 Ken's Thrifty Way Pharmacy has been in operation since 1971. Our pharmacy staff takes pride in giving the best service possible. Our pharmacy takes pride in giving the best service possible. We are locally owned and operated and take great pride in our community. Ken's Thrifty Way has a large staff to make sure that your needs are taken care of in a timely manner. There are no long waiting lines at Ken's Thrifty Way pharmacy. Our knowledgeable staff is waiting to help you with all of your medical needs and questions. Don't hesitate to call on us!! We are always only a phone call away from answering your questions. We can fill all of your prescription and medical equipment needs. We can card medications for the nursing home patient or instruct a new parent on the use of a nebulizer for their child. Transferring your prescriptions is quick and easy. We take care of everything for you.
Ken's Thrifty Way Pharmacy goes above and beyond to take care of our customers. Please feel free to give us a call or stop in and see what we have to offer. We accept all major insurance plans, Medicare, Medicaid and Medicare D. And remember, at Ken's Thrifty Way WE CARE ABOUT YOUR HEALTH!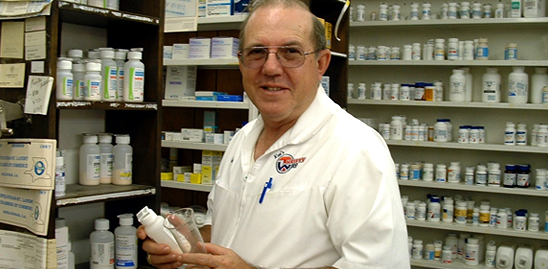 Kenneth Savoie, Owner
Kenneth was born and raised in Sunset, LA and graduated from pharmacy school in 1968. Shortly after graduation, he opened Ken's Thrifty Way Pharmacy in 1972. He has since opened up 2 other locations, one in Lafayette and another in Port Barre.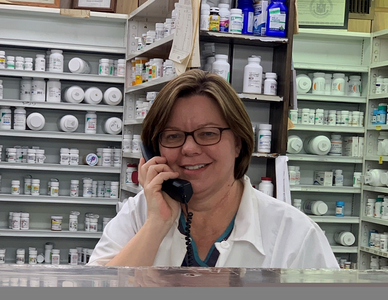 Christine Leger - Pharmacist
Christine was born and raised in Opelousas. She attended Opelousas Catholic for 13 years and graduated in 1989 with honors. After high school, she went to LSUE then transferred to NLU and graduated in 1994 with a degree in Pharmacy. Christine is certified to give immunizations. Christine is married to Jared Leger and they have two boys, Caleb and Gavin.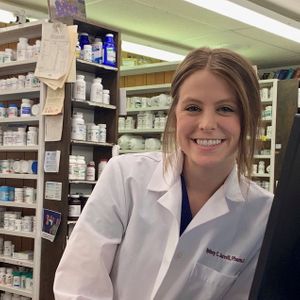 Sydney Jarrell, Pharmacist
Sydney was born and raised in Ville Platte. She attended LSU for undergrad and received her Doctorate Of Pharmacy from ULM in 2017. Sydney and her husband, David currently reside in Carencro with their dog, Gus. Sydney is our health nut in the pharmacy. She enjoys cycling and spending time with her large family. Sydney is certified in administering immunizations and would be more than happy to answer any questions you may have for her.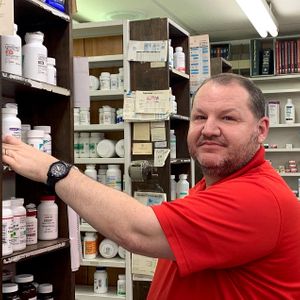 Steven Hundley, Pharmacist
Steven was born and raised in Church Point. In 1989, Steven graduated from Church Point High School with honors. After high school, Steven attended LSUE for a year then moved to Monroe to enroll in pharmacy school. Steven graduated in 1993 with a Pharmacy Degree. Steven has been with Kens Thrifty Way for 17 years. He and his wife, Mia live in Grand Prairie. They have 2 kids, Caroline and William.
Our Mission Statement:
Ken's Thrifty Way Pharmacy and Home Medical, Inc. mission is to meet the pharmacy and home health needs of our patients/clients in Louisiana. We will achieve this by providing:
Superior prescription service and consultation in a timely fashion
The highest quality medical equipment and supplies
Outstanding Patient Care and Service
Innovative service with a penchant for cost effectiveness
Our patients/employees will be treated:
With the sincerest of integrity and respect.
We will respect the rights and privacy of our patients/clients
Continual education and training to our employees and open communication with patients on the use of equipment, supplies and medication
We will be available 24/7 to provide what's needed when needed.
We will realize our mission by setting the highest of standards in pharmacy and home health industry with our ultimate goal of helping our patients live longer, healthier and happier lives